Maccaolin na Tournaig
Captain Odo's Household
Norman Montgomery
The household is named for Tournaig (Tornaig or Thuirnaig, etc.- pre-16th C. name), the tack (land held and sublet for the household), on the southeastern shore of Loch Ewe, just a few Km south of Glenderry (on modern maps known on maps as Aultbea, on the mainland due east from Harris), north east of what is now the Inverewe Gardens, with the tack covering the area from just south of Aultbea, inland toward Laide, but not including it, and west (and south) to the Ewe river, and south to the head of Loch Marie. The major settlements (yes, three families is major to us) include all those tiny named places around Poolewe, and Tournaig, which is a beautiful, green farm.
| | |
| --- | --- |
| Norman Ott Montgomery | (20th century name) |
| Odo mac Raibert mhic Sorley Montgomrie Maccaiolin | (16th century name) |
| na Tournaig | (the "Style": of Tournaig) |
| an Fear Sporran | (Treasurer) |
| Maor Bailie na Gleannadoire | (Mayor of Glenderry) |
| Caputum | (Captain) |
| Ceann Tighe Maccaolin na Tournaig | (Chieftain of ~) |
He served as a galoglaigh in Eire fighting for the Butlers in the Desmond Wars in southwestern Ireland before he was forced to flee, and is head of the third cadet branch of the Scottish family of Colin and as such wears two vertical feathers as Ceann Tighe Maccaolin na Tournaig, one of the grad flaith households. The Chief's lineage is closer to the original Chiefly line, as Odo's descends through a third brother of the Colin, and the Chief's through the first, with An Doire and Slaggen deriving from the other brothers. It is a Scottish family which remained in Scotland. He lives with his wife Una in a large blackhouse. His personal mark is an equilateral triangle with a center mark, which frequently elaborated as a more decorative interlaced equilateral triangle with a center mark, as above, frequently on more personal goods.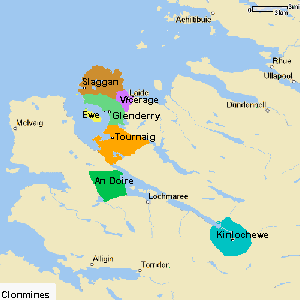 He is the 'An Fear Sporran (the Chief's treasurer) and also serves as An Maor Baille for Glenderry with the civic responsibilities for the village, including administering the rents, and is responsible for collecting any taxes and fines levied within the Clan, and for knowing pretty much who has what. He administers the Marks Registry to help insure members get their goods back, as well as the Whos Who.

He is also the head Leach, in charge of the medical corps, though this is more a managment matter, This is identified by the fleam (blood letting knife) on a circle of red and gold.
His son, Ote, daughter Alaistriona and others assist in this endeavor. Other members of the household are involved other responsibilities, such as Brian with collections. Angus Boineid Iaruinn (Iron Bonnet) in one of his jobs, master fencer, keeps the sheep out of our food. Anne dances up a storm.
Odo's household is composed primarily of MacColin Clanaholics, those who distinguish themselves by excessive work, with more interest in a variety of interests ranging from dance to wood work, with members strewn from San Diego to Barstow. Household persona information is a co-operative effort. Pictures
Household Members: One household project I would like help with is a better map page. I have several that need review and feedback to me to decide which should get put up on MacColin.com.